Earn 1.529% on your everyday spending!
Save even more for college with the CollegeCounts 529 Rewards Visa® Card. As the cost of a college education continues to rise, we've come up with an additional way to help you save.
With the CollegeCounts 529 Rewards Visa® Card, you can earn 1.529% on your everyday purchases.1 Each quarter, once you've accumulated $50 or more in rewards, the funds will be automatically invested into the CollegeCounts account(s) you designate.
It's simple to earn these rewards. Just use the CollegeCounts 529 Rewards Visa® Card for your regular spending, and 1.529% of your eligible net purchases will be invested directly into your CollegeCounts account each quarter.1
For example, a family with an average monthly budget of $1,500 for groceries, gas, dining out, clothing, and other everyday expenses could accumulate an additional $275.22 over the course of a year by using this rewards card. Multiply that over several years, add in potential earnings, and you'll have extra college savings built up without changing your everyday habits.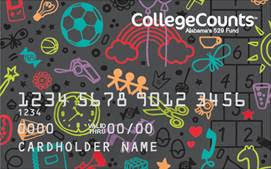 | | | |
| --- | --- | --- |
| | Average Credit Card | CollegeCounts Visa® |
| Rewards Rate | 1.0% | 1.529% |
| Rewards Earned | $180.00 | $275.22 |
Based on an average expenditure of $1,500 per month ($18,000 per year).
Build More Savings
Interested in making this card work even harder for you? Encourage family members and friends to get a CollegeCounts 529 Rewards Visa® Card. Their everyday spending can also earn rewards on behalf of the beneficiary.
Apply for Your Card Today
You're already spending the money. It's just not earning you any college savings . . . yet. Apply online and start building even more savings for college.
1Net purchases are defined as the dollar value of goods and services purchased with a card beginning with the first day of the billing cycle that includes the cardholder's enrollment date minus any credits, returns or other adjustments as reflected on the monthly billing statement. Rewards of at least $50 must accumulate for an automatic transfer to the designated CollegeCounts 529 Fund account(s) each quarter. CollegeCounts 529 Rewards Visa Card is issued by Union Bank & Trust Company pursuant to a license from Visa U.S.A. Full details are provided in the CollegeCounts 529 Visa Card Application and Disclosures along with the Terms and Conditions. Subject to credit approval. All terms, including rewards points, fees and APRs for new transactions may be subject to change.